Specializing in Realtors and Mortgage Lender Partnerships
Are you a realtor or mortgage lender in the Springfield and Branson, MO. regions? 
We know that partnering with an insurance agent or brokerage firm is just one piece in the puzzle…but it's a vital piece to getting the contract closed on time and without issues. We are insurance professionals who have been working with realtors and brokers for more than 20 years. We partner with you to provide your clients with the best coverage for home and business, at the best price we can find.
If you are a Missouri commercial realtor, residential realtor or mortgage lender, contact us today to see how we can help you and your clients achieve the coverage they need.
Homeowners Insurance
We understand that as a Real Estate professional, getting your clients the homeowners insurance they need as quickly as possible means less to worry about at closing. And if insurance comes in at a price that fits their new household budget, then it's even better. Whether it's a first-time home buyer, someone needing a larger home, a second home, or downsizing, we work with it all.
Saving Your Clients Money on Homeowner's Insurance
We can partner with your client to identify any discounts they may qualify for before they move in…and make sure they are covered from any issues after the unpacking is finished. Here are some examples:
Home Security: If the home comes with a home security system, or if your clients are planning on installing a home security system, this could earn them a discount.
Roof: If the new home has a newer roof or certain kind of roof, they may qualify for a new roof discount.
Age of Home: If the age of the home is fairly new, they could qualify for a discount on their coverage. If the home is older, we will find them the best coverage to keep them from costly issues later.
These are just some of the ways we can help your clients save on the coverage they need for the home of their dreams.
We have five locations to serve Missouri – Branson, Ozark, Nixa, Willard, Republic and Springfield. 
Contact us today to see what we can do for you.
Business and Commercial Real Estate Insurance
We have been insuring business and commercial properties for years and we understand the requirements and issues associated with them – location, age of the building, previous damages, nature of business, etc. The list can go on and on. The important thing is to partner with an insurance provider who understands the different needs and issues and can get your clients the coverage they need to avoid property loss and financial damage.
Here are some examples of Commercial Building Property that we provide coverage for:
Apartment Owners
Self Storage
Condominium Owners
Store & Lock Centers
Retail Stores
Restaurants
At Millennium Brokers, we will work with you and your client to find coverage that works for them, mitigating risk so they can run their business with the peace of mind that we have done our job right. 
If you're looking for a business or commercial property insurance provider who services every client with experience and compassion, give us a call. We will be happy to work with you to get your clients the coverage they need.
Business Insurance Products for Missouri
We do more than just offer insurance for the building. We can offer full-service coverage for your client's business with our Business Owners Packages (BOP).
No two businesses are the same, so it's important to speak to a qualified Business Insurance professional like us, who can sift through the various options for your client.
Customer Reviews for Millennium Brokers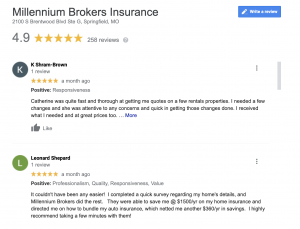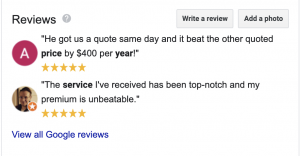 We have hundreds of 5-Star customer reviews from Google and Facebook.  That's because we don't cut corners and we don't apply cookie-cutter approaches to every client. We know that every client is unique in their needs and we work to make sure those needs are met. Our goal is to not just provide great service to your clients, but we want to service their children and their children's children.
See if Millennium Brokers Can Help Your Clients
To get started, call our office or click over to our Quotes page. Whether you are a Realtor or lender serving Nixa, Ozark, Springfield, Republic, or Branson, we can help your clients get the coverage they need for their home or business.
We look forward to creating a strong, long lasting relationship with you.